We recognize that all of our patients are unique and deserve to receive dental care that reflects their individual needs. Our experienced and talented dental team is committed to working with you and your family to create a comfortable, stress-free, and rewarding dental experience every time you visit our practice.
We are pleased to welcome you and your family, and we look forward to working with you.
---
Entire Staff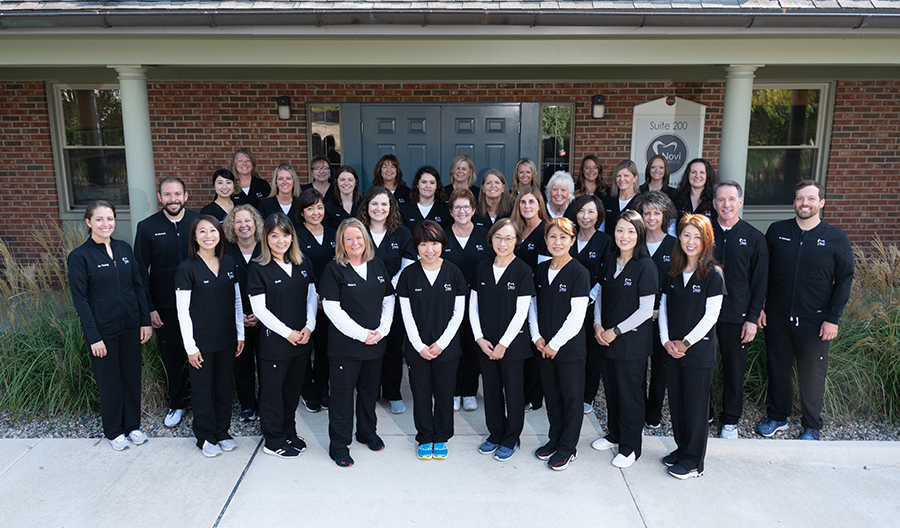 ---
Front Desk Team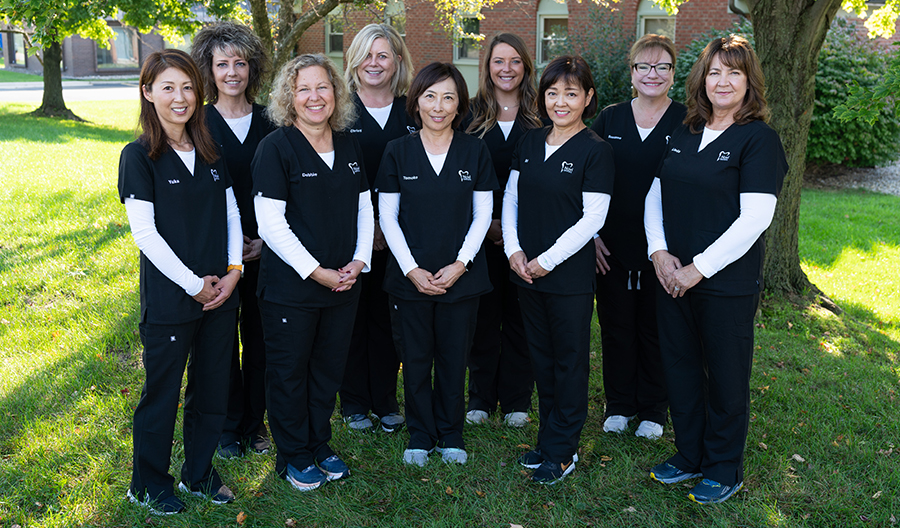 Front: Yuka, Debbie, Tomoko, Eri, Linda
Back: Christy O., Christi P, Alicia
,

Suzanne

Our friendly and highly skilled front desk team desires to handle your dental needs in a courteous and efficient manner, tailored to your individual needs. We offer extensive office hours, including evening and weekend appointments, and respect your time and personal schedule. We take a personal interest in every patient.

The front desk team strives to make your experience a positive one, whether making routine appointments or emergency appointments, fielding patient concerns and billing questions, or making referrals to specialists as needed. We protect your personal information. All staff participates in an annual emergency preparedness seminar.

Our front desk team has an exceptional knowledge of dental insurance plans, and assists our patients in understanding their individual benefits.
---
Dental Hygiene Team
Back: Jess, Suzanne, Kori, Heide, Kolleen, Erika
Front: Yuki, Patty, Maggie, Kelly
Our highly skilled dental hygiene team is an integral part of our patients' dental healthcare experience. Partnering with the doctors, they provide a comprehensive prophylaxis (cleaning), perform multiple diagnostic testing procedures, and assist in the detection of oral cancer, periodontal (gum) disease, and general health screening with detailed medical history review. Standard cavity detection and radiographic (X-ray) screening are provided. The clinical staff is all CPR certified and attend a yearly emergency preparedness seminar.
The application of fluoride and proper oral hygiene instruction are also offered. Strict sterilization standards are adhered to, and the comfort of our patients is always a top priority.
---
Dental Assistant Team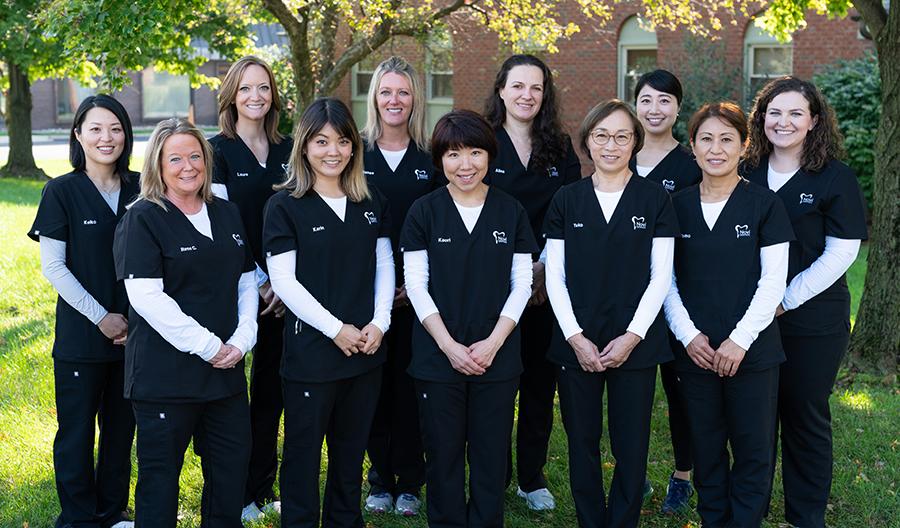 Back: Keiko, Laura, Renee, Alma, Miho, Maura
Front: Rene, Karin, Kaori, Yuko, Tomo
Our highly skilled dental assistant team works chairside with the doctors, to assist in a multitude of dental procedures from routine fillings to extensive crown and bridgework. Trained in many expanded duties, including custom temporary crowns, our assistants are the essential second pair of hands during your treatment.
Our team maintains the use of quality dental materials and current dental techniques. The most highly effective and strict sterilization guidelines are utilized. They are trained in the use of digital X-rays, which greatly reduce the amount of exposure to our patients. The clinical staff is all CPR certified and attend a yearly emergency preparedness seminar.
Our dental assistant team is dedicated to the care and comfort of our patients.
---
Japanese Staff